The diode that came closest to the ideal with high current

Product:
Description:
Specifications:
Data Sheet:
Delivery time:
The diode that came closest to the ideal with high current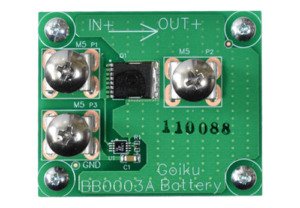 Product:High Current Diode
Description:Prevents problems caused by backflow from the battery pack to the charging system when there is no power transmission from the charging system.
Specifications:Voltage DC 70V, Electric current DC 25A
Data Sheet:Japanese Specifications download(PDF)
Delivery time:Approx. 1 month after ordering
(Please let us know if you are in a hurry)
Side (long side/short side)
Q:Why the name "ideal diode"?
A:General diodes have a forward voltage (about 0.7V). The name "ideal diode" means a diode that is close to the ideal with 1/6 of that voltage suppressed.
Q:Why the low power consumption?
A:A typical diode always generates a forward voltage (about 0.7V), so if 20A flows through it, it consumes 14W of power. A high-current ideal diode consumes only 2.4W at most.
Q:Is it possible to flow up to 50A if two units are used in parallel?
A:No. Each product has a slight variation in ON resistance, so parallel connection is not possible.
Q:What are the advantages of using it?
A:Power consumption can be reduced, so losses during recharging can be reduced.
Q:What systems should this product be used in?
A:This product can be used in solar energy storage systems, chargers, and all other systems where the current must not flow backwards.